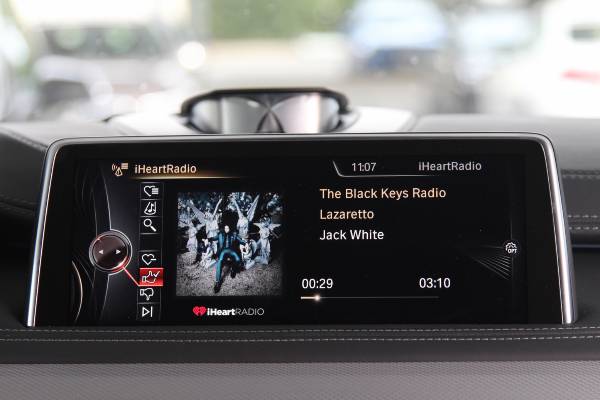 Here is the official press release from
BMW Group PressClub USA
:
New York, NY – March 31, 2015 – 12:00 p.m. EDT/9:00 a.m. PDT … BMW Group today announced that iHeartRadio, iHeartMedia's free all-in-one streaming music and live radio service, is now available to BMW and MINI drivers, providing easy access to their favorite Live and Custom iHeartRadio stations and podcasts directly from BMW ConnectedDrive and MINI Connected services. Demos of the iHeartRadio integration are available Wednesday, April 1 and Thursday, April 2 on the BMW Stand at the 2015 New York International Auto Show, inside the Jacob K. Javits Convention Center in Manhattan.

All iHeartRadio users on iOS can now enjoy a seamless listening experience in BMW and MINI ready vehicles. Features include:


Access to thousands of iHeartRadio's live radio stations from across the country and a catalog of more than 20 million songs and 800,000 artists to create custom stations.
A personalized "For You" feature with tailored recommendations based on listeners' specific music preferences.
Access to saved Favorites, with the ability to add or remove stations.
Browse recent stations, including live and custom radio stations based on a song or artist.
The ability to Thumbs up/Thumbs down songs to create a more personalized experience.
Scan live radio stations to foster music discovery and search podcasts offering on-demand news, celebrity and entertainment talk show content.
An intuitive viewing experience on the in-car, high-resolution Control Display.
Comfortable and safe to use with the BMW iDrive Controller or MINI Controller.


Beginning today, when the iHeartRadio for Auto app is downloaded from the Apple App Store, it will be compatible with any BMW equipped with the BMW Apps option as well as MINI Connected ready vehicles.

App integration.
The iHeartRadio for Auto app has been specially certified by BMW for safe in-car use. The app uses the BMW Group's A4A (Apps for Automotive) technology and can be downloaded for iOS-based devices from the Apple App Store. Having connected a smartphone to the car via the USB socket or snap-in adapter and launched the app, users are presented with various functions via the iDrive Controller/MINI Controller, the Control Display/MINI Centre Instrument and the car's audio system. To use the app in BMW and MINI models, the BMW ConnectedDrive Services or MINI Connected option needs to be specified.

Smartphones and apps in your car.
With the aim of enabling safe and comfortable use of apps in cars, the BMW Group was an early driver of smartphone integration and has already certified numerous apps for access in BMW and MINI vehicles. These apps have been optimized for use during a journey, can be operated via the iDrive Controller or MINI Controller without distracting the driver, and are viewed in the Control Display or the MINI Centre Instrument, respectively.

About iHeartMedia
With 245 million monthly listeners in the U.S., 97 million monthly digital uniques and 196 million monthly consumers of its Total Traffic and Weather Network, iHeartMedia has the largest reach of any radio or television outlet in America. It serves over 150 markets through 858 owned radio stations, and the company's radio stations and content can be heard on AM/FM, HD digital radio, satellite radio, on the Internet at iHeartRadio.com and on the company's radio station websites, on the iHeartRadio mobile app, in enhanced auto dashes, on tablets and smartphones, and on gaming consoles.

iHeartRadio, iHeartMedia's digital radio platform, is the No. 1 all-in-one digital audio service with over 500 million downloads; it reached its first 20 million registered users faster than any digital service in Internet history and reached 60 million users faster than any other radio or digital music service and even faster than Facebook. The company's operations include radio broadcasting, online, mobile, digital and social media, live concerts and events, syndication, music research services and independent media representation. For more company information visit iHeartMedia.com.