Join NORCAL MINIS in 2012!!!
Annual Membership is only $25.00/family and entitles you to a host of discounts from vendors and Dealers that support NORCAL MINIS, email invitations, a say in where we run and what we do and access to Members Only events and our
Members Only Google Group
. Just use this Paypal Button to join:
NORCAL MINIS OPENS LANDS' END STORE!
That's right! Now you can order NorCal MINIs' branded merchandise from Lands' End through
Just choose the merchandise that suits you and choose the NorCal MINIs' logo you desire. This is real Lands' End quality from Lands' End. What could be better than that?
RUN TO THE FERRIES/SF PROGRESSIVE LUNCH
Join NORCAL MINIS as we take San Francisco Bay ferries to San Francisco for a progressive lunch on
Saturday, January 7, 2012.
Here is the Itinerary:
From The North Bay:
Your ferry leaves the
Sausalito Ferry Terminal
for San Francisco's Pier 41 at
10:55 a.m.
(
Please arrive early to buy your round trip ferry ticket. You will return to Sausalito from Pier 41 on the last ferry back which has a 5:20 p.m. departure time).
You will arrive at Pier 41 at approximately 11:20 a.m.
From The South And East Bay:
Your ferry leaves the
Vallejo Ferry Terminal
at
10:00 a.m.
(
Please arrive early to buy your round trip ferry ticket. You will return to Vallejo from Pier 41 on the last ferry back which has a 6:30 p.m. departure time).
You will arrive at Pier 41 at approximately 11:20 a.m.
We will meet up at Pier 41 and make our way down Fisherman's Wharf for clam chowder at
Boudin at the Wharf
. We will then stroll down the open fisherman's wharf stalls for take away crab and seafood cocktails. We will then make our way through street performers, vendors and endless shops to the
Buena Vista Cafe
to finish off the afternoon with Irish Coffee. We will then make our way back to Pier 41.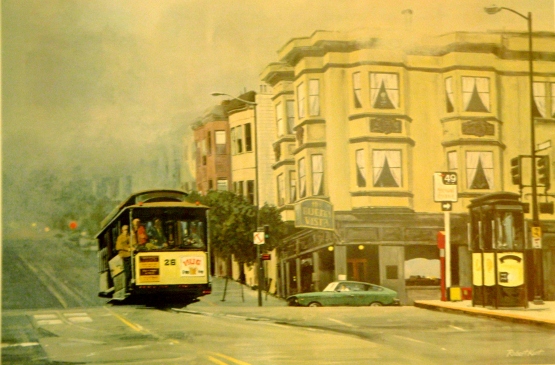 Come Out And Play!
This event is open to Members and Non-Members. Members, please respond to your email invitation for this event. Non-Members, and Members that have lost their email, tell us you're coming by emailing us at
info@norcalminis.com
. Please also tell us which ferry you will be using so we know when to expect you in SF.
NORCAL MINIS' TRACK DAY AT MINI THUNDER III
You Asked For It - You Got It!
An overwhelming number of 2011 NORCAL MINIS' members voted to attend a Track Day at a Northern California Racetrack in 2012. That's exactly what NORCAL MINIS will do.
Here Are The Particulars
MINI Thunder III is limited to 120 MINI/Minis. This will give enough time and instructors for every driver. There will be groups ranging from first timers to advanced.
The cost is $199 per entrant or $275 for those that want to share a Mini. This includes loads of track time, turn workers, tow-trucks, flaggers, instructors, lunch, & T-shirts. For shared entries the 1st T-Shirt is included for the primary driver and the second to be purchased @ $15 in sizes of S,M,L, XL, 2XL.
T-Shirts will be available in sizes small, medium, large, XL, and 2XL, larger shirts (3XL, 4XL, etc) must be purchased in advanced and will be at $25.00 ea.
This event is for MINI/Mini Coopers only, any model or variation.

For those that just want to come out and see what's up you are welcome at no charge. For those who come to observe there be "ride-alongs" with instructors and coaches during the sessions for FREE, and parade laps at lunch!
Staying In Willows
Stormin' Norman, Thunderhill Raceway Park and NORCAL MINIS have thought of everything. You may find yourself rather tired as the day at the track starts early (7:00 a.m.). You might want to stay in Willows before or after the event. Therefore, we have located the following lodging deals for your lodging pleasure:
In order to get the MINI Thunder/SCCA rate for Willows, CA hotels, you must
CALL the hotel directly (do not register on-line)
Tell them that you are attending MINI Thunder III and are requesting the Thunderhill/SCCA rates. The following rates apply if you call:
Holiday Inn – Nightly Rate $109
Baymont – Nightly Rate $79
Travelodge – Nightly Rate $ 59
NORCAL MINIS will run to Willows for this event. Check back for information on where and when in the Bay Area NORCAL MINIS will assemble for the run to Thunderhill for MINI Thunder III.
REGISTER NOW
Run with NORCAL MINIS to MINI THUNDER III on either:


Saturday, February 18, 2012 (Preferred By Participants)
or
Sunday, February 19, 2012 (Preferred By Observers)


MORE DETAILS IN EARLY JANUARY!!!!