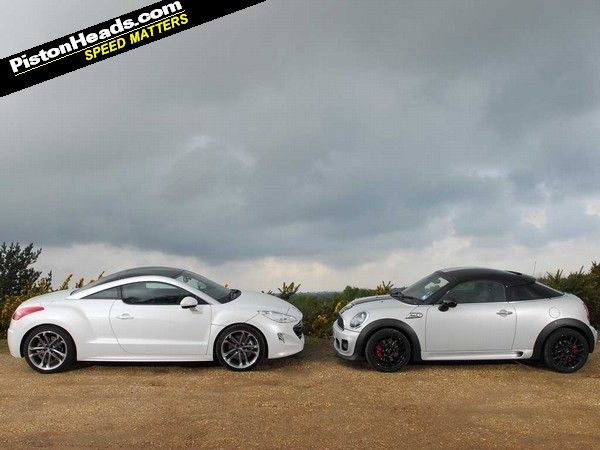 PistonHeads
looks at these two coupes which both use the same engine. Its ultimate conclusion:
Peugeot's first no-zero hero (the clue is in the name!) feels and sounds just as feisty as the JCW Mini - despite longer gear ratios - boasts epic levels of grip, identical performance, a spacious premium interior, far better damping and an almost neutral balance which permits a degree of adjustability. But the steering lets it down. It's too light at higher speeds, and when pressed leaves you guessing - where the Mini Coupe tells you in no uncertain terms what's going on at the front. Perhaps we should forgive that ride quality after all?

When it comes to flashing the cash however, there is only one winner. The JCW Mini Coupe is predicted to retain 45 per cent after three years, against 38 per cent for the RCZ. Which is impressive - but that means a second-hand RCZ is even better value. So although you'd need the thick end of £24,000 to buy either car brand new, you can pick up a mint 10,000-mile 2011 60-plate RCZ THP 200 GT, with two year's manufacturer warranty, for just £16,000. And in a coupe-crazed market place a good-looking premium feel two-door that offers decent performance and exceptional value for money will always succeed; especially if it has a 'Mini' engine at its heart.